Real Estate Career Training
Presented by:
Keller Williams Mega Agent Interview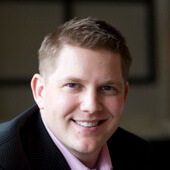 Josh Anderson, The Anderson Group – Keller Williams Realty Nashville, TN
How To Build A Successful Real Estate Team


If you are looking for some proven tips and strategies for how to have a have successful real estate career and build your own real estate team, you have come to the right place.  Josh and his real estate team of 12, are on track this year to close over $70 million in production, and The Anderson Group has been ranked in the Wall Street Journal's Top 1,000 Agents and RealTrends Magazine's Best Real Estate Agents. Josh shares how he utilized consistent face to face networking to initially grow his real estate business and how taking the time to follow up on with personal phone calls and/or a hand written letters made the difference.  Josh's real estate business continued to grow, once he was in the real estate business for about 3 years and other real estate agents started feeling comfortable referring him business.  Last year alone, Josh's real estate team close over 40 transactions just for other real estate agents referring his real estate team business.  Even though Josh has built one of the top real estate teams in Keller Williams Realty, he still religiously time blocks to lead generate 3 hours every morning, and everyone on his team knows not to bother him during this activity.  It was this consistent and persistent mindset of prospecting, combined with a focus on getting more listings, that ultimately led to the high volume of real estate business that created the leverage that Josh needed to start building his real estate team.  Josh discusses how making many bad hiring mistakes and then taking, and continuing to retake Keller Williams Realty's powerful real estate team building course, RecruitSelect,  has taught him how to attract, hire and retain quality talent for his real estate team.  Josh also shares how he keeps his real estate team motivated and accountable and what his plans are for growing his real estate team moving forward.   Listen and learn, as one of the most innovative and successful real agents in Keller Williams Realty shares with you his tips and strategies for how to have a highly successful real estate career, build a top producing real estate team and still create a life by design.



More KW Real Estate Team Building Posts:
Keller Williams NEWS: