Real Estate Career Training:
Presented by:


Keller Williams Mega Agent Interview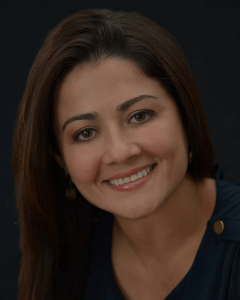 Claudia Restrepo, The Legacy Group – Keller Williams Realty Spokane, WA
How To Build A Successful Real Estate Career & Team


Keller Williams Realty Mega Agent Claudia Restrepo has a truly amazing and inspiring story to share.  She moved from her home country of Columbia to Spokane, WA,  to simply learn how to speak English in 2003.  After learning how to speak English and working as a bank teller for two years, Claudia's entrepreneurial mindset took over, and she decided that she wanted more, and just jumped into selling real estate full-time.   With very few personal relationships and not a lot of money to spend on marketing her real estate career, Claudia bought into the Keller Williams training, and got very purposeful about her real estate prospecting and lead generation.  After just a short couple of years in the real estate business, Claudia became one of the top real estate agents in the entire country,  and now runs one of top producing real estate teams in all of Keller Williams Realty, The Legacy Group in Spokane, WA, which closed over 350 units in 2014!   Claudia continues to manage and run her real estate team in Spokane, but presently lives in Miami, FL, where she is the Operating Partner for one of the fastest growing Keller Williams Realty market centers in Coral Cables, FL.
In this powerful real estate career training session from Rick Bosley, KW Team Leader and Real Estate Coach, Rick and Claudia discuss how she was able to build her successful real estate career so quickly and how attracting the right talent to her real estate business, gave her the leverage to start building her real estate team.   This leverage in her real estate business allowed her to focus her energy on what she did best, which was generating more real estate business.   It was the combination of leverage, systems, talent, accountability and a consistent lead generation strategy that was the foundation of growing her real estate business and real estate team to the highest level.  Claudia is not afraid to take risks and truly believes in the mindset of, 'If it is to be…it is up to me!' , and in this KW Mega Agent Career interview, Claudia will inspire you to think bigger and act bolder!   If you want to learn how to build a successful real estate team with the right talent and systems, you need to listen and learn from one of the true masters of building a top producing real estate team.



Keller Williams Related Training Posts:
How To Build A Real Estate Team
 Be A Real Estate Business Owner Vs. Working A Real Estate Job
How To Build A Real Estate Team | KW Mega Agent Interview With Ben Kinney
Building A Real Estate Team | KW Mega Agent Interview
Expand Your Real Estate Business Into Multiple Markets | The Mega Agent Expansion Model
Real Estate Team Building | Organizational Structure Of A Mega Real Estate Team
How To Build A Mega Real Estate Team 
How To Build And Compensate A Real Estate Team 
Building A Real Estate Team With Inside Sales Agents (ISAs)
Keller Williams NEWS: