You'll Have Our Full Support
Join the Keller Williams TeamBecoming a successful Realtor® isn't the result of luck. You need to have the drive, as well as the resources, to get the job done. That's the difference between a job and a career. No one else can do it for you, but if you have the initiative, we'll make it possible for you to go as far as you want!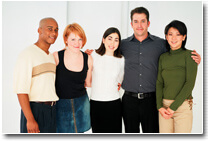 At Keller Williams® Realty, you'll always have the resources to help you make the right decisions. From initial training to ongoing coaching, the KW team strives to make all of its parts stronger, knowing that

We're dedicated to helping you do your job, to the maximum of your ability.
If you are already a seasoned real estate agent and feel you deserve a greater personal return on your hard work, you have come to the right place. At Keller Williams®, you will find a true team spirit combined with vast personal earning potential.
Be a part of the fastest growing real estate firm in the nation!
Learn and Grow
One way Keller Williams® supports its realtors is by offering the ultimate key to career success: education. Our widely-respected training program reflects our commitment to Realtor® education and career growth. Established in 1996, Keller Williams® University has a focus on personal productivity, sales skills and career development. There's no better way to build your business, and your earnings.
That's our difference. Are you ready to take the opportunity?