Keller Williams Realty Profit Sharing Works!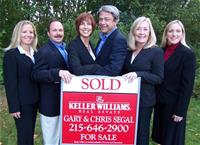 Gary Segal, The Gary Segal Team at Keller Williams Realty
In this free realtor career audio training session from KW Agent Mountain, Gary Keller talks with KW mega agent Gary Segal.  Gary Segal has prepared for his retirement by recruiting great leaders.  His weekly commitment to the Keller Williams Profit Sharing system will net the equivalent passive income as if he had saved five million dollars over his career.  Listen to this inspirational conversation with Gary Keller.
[audio:https://moving-careers.com/wp-content/uploads/2010/12/ProfitSharingWorks_GarySegal.mp3]
More Posts on KW Profit Sharing Model:
Wealth Building Slideshow Presentation: Grow Your Profit Share Tree and Amplify Your Life!
What is The Keller Williams Realty Economic Model?
Video: The Gift of Keller Williams Realty's Profit Sharing Model
Keller Williams Realty's Profit Sharing Video
Keller Williams Realty: The Commission Structure
More Free Realtor Career Audio Training from KW Agent Mountain: