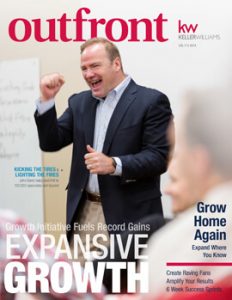 Online Edition For 2nd Quarter 2014


Keller Williams OutFront Magazine is Keller Williams Realty's quarterly publication, focused on the Keller Williams Realty real estate career advantage. The greatest advantage of running your real estate business at our company, is that there is an actual incentive for our real estate agents to share ideas and mastermind with eachother.  In every issue of KW Outfront Magazine, you will find this culture of sharing manifest itself in the many articles of top KW associates discussing  how they do business in their market at the highest level.
It is a simple idea, TEAM: Together Everyone Achieves More!!    Each issue of KW Outfront Magazine is distributed quarterly to all of our Keller Williams Realty associates in the United States and Canada.  Whether you are just considering starting a real estate career or an experienced real estate agent looking for proven strategies to grow your real estate business, understanding how the most successful and innovative real estate agents are doing it right now,  is invaluable.
In this 2nd Quarter 2014 edition of KW Outfront Magazine, we take a closer look at the Keller Williams Realty record setting growth and how KW Worldwide continuesto grow across borders, as we meet the new leaders of KW Mexico.  Also meet the four KW associates who made Realtor Magazine's 30 Under 30 list, as well as many insightful interviews with some of the most successful and innovative KW real estate agents in the business today sharing their secrets and strategies.




The Future of Keller Williams Realty & Mega Agent Expansion
Keller Williams NEWS: