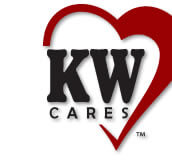 The Keller Williams Realty Advantage – The KW Culture!
When you ask real estate agents why they made the move to Keller Williams Realty or why the continue to run their real estate business here, chances are they will answer with two simple words – The Culture!  As a result of our innovative agent-centric business model, which was designed to treat our agents as partners, our agents are all vested in a common goal, to make their office and company as profitable as possible.   All of our associates have true ownership in this company, and their willingness to share ideas and help other KW agents, is truly the greatest value proposition of running your real estate business at Keller Williams Realty.   KW Cares has touched thousands of lives and through the continuing generosity of Keller Williams associates, is positioned to reach the lives of thousands more.
Unpredictable accidents are often the most devastating. And none was more shocking than the tornado which ravaged Joplin Missouri and threatened to tear apart a community.
The Joplin Missouri tornado tragically took the life of Keller Williams Family member, 18 year old, Will Norton.  To honor his memory and those of the other 161 lives that were lost, Keller Williams raised $150,000 to create the Joplin memorial park. The highlight of the park will be the Will Norton Miracle Field, where handicapped children can come together to play baseball.  This video shows what our KW associates' donations are making possible and what a typical Miracle Field looks like and what it means to our family in Joplin. This is our KW Culture in action
KW Cares
is a 501(c) (3) public charity created to support Keller Williams Realty associates and their families with hardship as a result of a sudden emergency. The charity is the heart of Keller Williams Realty culture in action — finding and serving the higher purpose of business through charitable giving in the Market Centers and communities where Keller Williams associates live and work.
The Keller Williams Realty Difference