Creating Real Estate Careers Worth Having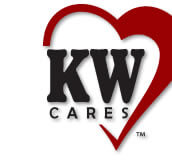 At Keller Williams Realty, our mission is to help our Keller Williams Realty agents create true real estate careers worth having, real estate businesses worth running and lives worth living.   As a part of this commitment to our real estate associates, Keller Williams Realty is excited to announce the launch of Keller Williams Kids Care, a new non-profit envisioned by Gary Keller, Co-Founder and Chairman of The Board of Keller Williams Realty,  that will provide educational opportunities and award scholarships and learning-centric grants to deserving kids of our Keller Williams associates!   
Through powerful educational experiences, a unique community of entrepreneurial youth, and awarding scholarships and grants for the children of Keller Williams associates, KW Kids Care is in the business of delivering a-ha moments to future leaders. We're gonna do it BIG. We can pay for someone to attend their dream university or send them on that mission trip they've been dreaming of! And we're gonna go small – through educational events and an exclusive online community for our KW Kids. The KW Kids Care community learns together and earns together. We're going to encourage our kids to give back to KW Kids Care, so that it becomes an organization of "kids helping kids helping kids."  Watch the below video from Gary Keller himself, to find our Keller Williams Realty's big plans for KW Kids Care.




Keller Williams NEWS: