Hiring a Lead Buyer Specialist With Showing Assistants Works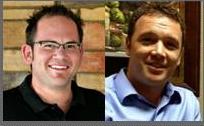 Kevin Kauffman & Brad Tracy of KW Group 46:10
In this free realtor career audio training session from KW Agent Mountain, Gary Keller talks with mega KW agent Kevin Kauffman of Group 46:10 in Phoenix and his lead buyer specialist, Brandon Tracy.  Gary discusses with Kevin how hiring Brandon as his Lead Buyer Specialist with Showing Assistants is moving his business from good to exceptional.  Whether you are a newly licensed agent or an experienced realtor, the information shared in this audio session is invaluable.  Listen and learn now!
**Audio Player is Optimized for Flash Only**
More Free Audio Training From KW:
Frequently Asked Questions About A Real_Estate Career at KW:
What is The Keller Williams Realty Difference?
How Do I Get a Real_Estate License and Become a Realtor?
What Kind of Real Estate Training Does Keller Williams Offer?
How Does The Keller Williams Realtor Compensation Work?
Does Keller Williams Offer Any Online Real_Estate Education Classes?