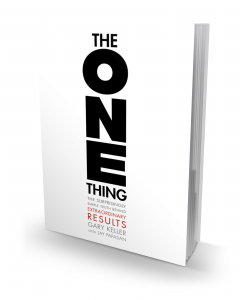 Mindset Of A Successful Real Estate Agent



Whether you are just considering starting a real estate career or your an existing real estate agent trying to grow your real estate business, you must understand that what stands between you and your goals for your real estate career, is your ability to dismiss distractions and concentrate on your ONE Thing.  The most successful real estate agents understand that by focusing on their ONE Thing, and being consistent and persistent with their efforts, they can secure the competitive advantage they need to take their real estate careers to the highest level.  From Keller Williams Realty Founder Gary Keller & Jay Papasan, the authors of The New York Times Best Sellers, The Millionaire Real Estate Agent and SHIFT: How Top Real Estate Agents Tackle Tough Times ,  comes their next best selling real estate career training book,  The ONE Thing.   
In this real estate career training video series from Keller Williams Mega Agent Kevin Kauffman, of www.KevinandFred.com, Kevin sits down and talks with Gary about his new book, and the pivotal question behind extraordinary results.  Watch and learn, as Gary will tell you how you can get massive results AND go home on time, and how to create a habit and how to apply the focusing question to all areas of your life and real estate career.    If you want to develop the mindset of a successful real estate agent and learn how to focus on the things that matter most in your life and real estate career, you need to watch these videos and find your ONE Thing!
Related Posts:
The Surprisingly Simple Truth Behind Extraordinary Real Estate Career Results
The Millionaire Real Estate Agent Mindset
An MREA Video Moment: The Economic Model
MREA Video Moment with Gary Keller & Jay Papasan: The Lead Generation Model
MREA Moment with Gary Keller & Jay Papasan: The Organizational Model
Keller Williams NEWS: